Cataract Surgery, What to Expect…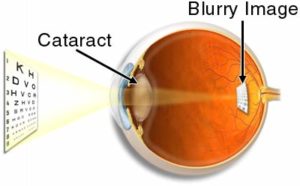 When you have a cataract, the lens within your eye has become cloudy and your vision becomes impaired. It must be removed and replaced with a clear artificial lens, which surgeons call an Intraocular Lens, or IOL. This new lens gives patients clear, cataract free vision. Your surgeon will only perform cataract surgery on one eye at a time and if needed, typically performs cataract surgery on the second eye a few weeks later.
The cataract procedure is performed on an outpatient basis and does not require an overnight stay in a hospital. First, your surgeon will give you a sedative to help you relax. Next, your surgeon will numb your eye using topical eye drops.
Once numb, your surgeon then uses a technology called phacoemulsification to break the cataract into smaller pieces so it can be easily removed. The phacoemulsification technique uses ultrasound which allows surgeons to perform cataract surgery in only minutes and helps with a faster healing time.  Once your cataract is removed, your surgeon will then implant an artificial IOL, which will allow you to see well. Many patient will still require glasses in order to see well in the distance and nearly all will require reading glasses or bifocals in order to see up close.
For patients that wish to reduce or eliminate their need for reading glasses or bifocals following cataract surgery, Northampton Eye Physicians offers Premium Lens Implant options, which allow most patients to do many visual tasks, most of the time without glasses.  To learn more about Premium Lens Implants, click HERE.
No Needle, No Stitch, No Patch
Dropless Cataract Surgery
At Eye Physician's of Northampton, we use a no-shot, no-stitch, no-patch procedure that takes usually less than 20 minutes to complete. The surgeons at Eye Physicians of Northampton are pioneers in dropless cataract surgery and look forward to discussing this technique with you in detail at your next visit.
What can you expect immediately after surgery?
We recommend restful activity for the first 24 hours after surgery. You may experience mild foreign body sensations and/or soreness that usually resolves by the next day. Patients are asked to avoid bending, straining, or lifting heavy objects for a week.
What if I have an eye doctor?
Eye Physicians of Northampton has developed a program specifically designed to enhance the relationship between you, your current primary eye provider, and our practice. This program is called co-management. We work with a select group of optometrists and ophthalmologists throughout the the state that help bring the highest level of patient care to the surgery process. Co-management involves "sharing the care" of your pre- and post-op appointments with Eye Physicians of Northampton and your local eye doctor.