Bringing Life Into Clear Focus
About Us
Eye Physicians of Northampton is a renowned multi-specialty ophthalmology practice with locations in Florence and Amherst, Massachusetts. Our focus is on compassionate and comprehensive medical, surgical and optical care. We provide our patients the care and attention they deserve, while providing them the best possible vision and overall eye health.
OUR SPECIALTIES
The doctors at Eye Physicians of Northampton provide a range of services including comprehensive eye exams, LASIK, Uveitis/Iritis care, contact lens examinations and more. Our goal is to make each visit to the eye doctor as convenient for our patients as possible by specializing in a wide variety of treatments and services.
Cataracts
LASIK
Comprehensive Eye Exams
Corneal Disease
Diabetic Eye Care
Macular Degeneration
Glaucoma Care
Optical Shop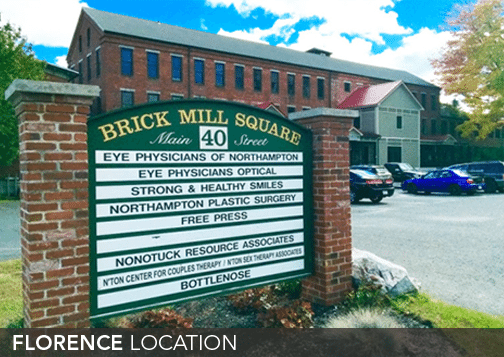 At Eye Physicians of Northampton, our ophthalmologists and optometrists have many years of experience with a wide range of knowledge about eye conditions, treatments, and current technologies.
Whether you're interested in learning more about laser vision correction, require a comprehensive vision exam, or need attention for a complex eye disease, one of our highly qualified physicians can help. Our doctors strive to answer all of your questions, making certain you leave our office feeling well-informed, confident, and reassured.
"Dr. Shatz and the staff at Eye Physicians of Northampton were amazing during the whole process, from the excellent customer service from everyone to the excellent care I received. I was very skeptical and nervous about having Lasik done and Dr. Shatz and his team prepared me greatly. All questions/concerns that I had were quickly addressed. I can honestly say the surgery went some smoothly and so quickly that it was over and done with before I could even think about it. I highly recommend Dr. Shatz and Eye Physicians of Northampton."
– Lauren N.
"One of the best decisions I made was to have Eye Physicians of Northampton diagnose and perform my cataract surgery. My vision was failing and Dr. Dostal identified the problem quickly and accurately which led to cataract surgery for both eyes. Surgeries were performed by Dr. Shield. I now have 20/20 vision in both eyes. I highly recommend Eye Physicians of Northampton."
– Kathy Q.