David R. Shield, M.D.
Comprehensive Ophthalmology
Cataract Surgery
Uveitis and Glaucoma Treatment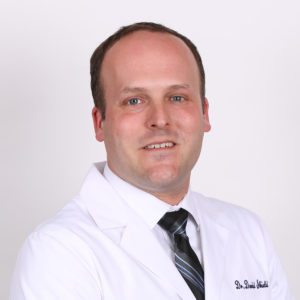 Specialties
Ocular Infectious and Inflammatory Diseases (Uveitis/Iritis)
No-Stitch, No-Needle, Patchless and Dropless Cataract Surgery
Glaucoma Management
Retinal and Macular Management
Diabetic Eye Care
Dry Eye Treatment – Sjorgen's and Fuch's Dystrophy
Comprehensive Ophthalmology
Ophthalmic Laser Treatment
Education
Bachelor of Arts (B.A.), Brown University, Providence, RI, 2003
Doctor of Medicine (M.D.), Yale University School of Medicine, New Haven, CT, 2010
Post-graduate Education
Residency in Ophthalmology –Yale University School of Medicine, New Haven, CT
Chief Residency in Ophthalmology, Yale University School of Medicine, New Haven, CT
Fellowship in Ocular Immunology and Uveitis, Eye Disease Consultants, Hartford, CT
Honors
Fulbright Scholar, Buenos Aires, Argentina, 2004
Marvin L. Sears Award for Clinical Excellence, Yale University School of Medicine, New Haven, CT
Board Certification
American Board of Ophthalmology
Affiliations/Society Memberships
American Academy of Ophthalmology
American Society of Cataract and Refractive Surgeons
New England Ophthalmological Society
Hospital and Surgery Center Affiliations
Baystate Medical Center, Springfield, MA
Cooley Dickinson Hospital, Northampton, MA
Cataract and Laser Center, West Springfield, MA
---
"One of the best decisions I made was to have Eye Physicians of Northampton diagnose and perform my cataract surgery. My vision was failing and Dr. Dostal identified the problem quickly and accurately which led to cataract surgery for both eyes. Surgeries were performed by Dr. Shield. I now have 20/20 vision in both eyes. I highly recommend Eye Physicians of Northampton." – Kathy Q.
"Don't wait to get your vision corrected. I have had 2 cataract and 2 lens implant surgeries in the last month and it was so easy and painless. Dr Shield was a total professional from start to finish. Great bedside manner and follow up, and very reassuring through out the entire process. The offices were well run, and efficient. I didn't sit waiting for any length of time at any time during my procedures or follow up care. The operating room staff were friendly and funny and made everyone feel relaxed. It was over so quickly I hardly knew it had happened. AND best of all….20/20 vision in both eyes after YEARS of glasses…couldn't be happier!" – Cindi S.
"I was a bit apprehensive to have cataract surgery. After waiting 3 years, I made an appointment with Dr Shield. He put me at ease right away with his confidence and friendly manner. He said it would take approximately 15 minutes and he'd make sure I was comfortable through it. During the procedure, he explained what was going on and checked on me to make sure I felt OK. There were no pre-op or post-op eye drops to deal with. My vision is excellent now- close to 20/20! I highly recommend Dr Shield to anyone considering cataract surgery." – Henry P.